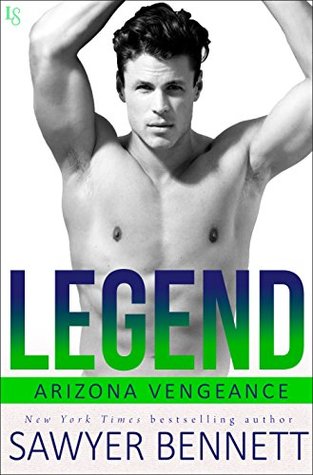 Title: Legend
Author: Sawyer Bennett
Rating: 4 stars
Genre: Romance
Where I got it: Public Library
Goodreads Summary
Everything is clicking for the Vengeance. We may be new, but we're well on our way to winning the championship, and I'm having the time of my life headlining the sports media as the hottest goalie—hell, player—ever. I for one am going to live up to my name . . . because I am Legend Bay.

Dragging my ass home from the gym, I'm blinded by some gaudy, glowing holiday lights. As usual, my hot-as-hell neighbor Pepper Nantais has gone way over the top. But just as I'm about to tell her off, something else catches my eye . . . Seems like Santa left me a present, and not one I was expecting.

As life takes an unexpected turn, I realize that there's much more to Pepper than meets the eye. Sure, she's gorgeous. And exasperating. And her taste in decorating may be a bit . . . unique.

But beneath her carefree demeanor is a fierce determination and a heart of gold. And before I know it I've fallen for her. Hard . . .

Pepper is exactly the woman I never knew I needed.
Review
The third book in the Arizona Vengeance series is by far my favorite!
Legend Bay is the goalie on the team, and lives next door to a woman he finds infuriating, Pepper Nantais. She has a very unique decorating style, which Legend finds incredibly horrifying. They fight like cats and dogs (mostly because of Legend), but that all changes the next Legend finds a surprise on his doorstep.
Once Legend is faced with this unexpected turn of events, Pepper is right there for him, every single step of the way.
Pepper is an amazing character. She was so strong but had the biggest heart. You couldn't help but root for her. Legend grew up really fast and was a cool guy. He seemed a bit older than he was, but not in a bad way. You really rooted for him in the book.
I love the Vengeance guys. I really wish Tacker's story was next, but I'm excited for Dax's. Should be good:)
Overall, this was a good story and I would recommend.