Friends is one my all time favorite shows of all time, and when I saw this, I stole the tag from Mel at The Bookish Wanderer. I'm getting to watch Friends again through my 18-year old son, who is obsessed with the show. Enjoy!
The Friends Tag
Favorite Episode?
The One with the Prom Video, hands down.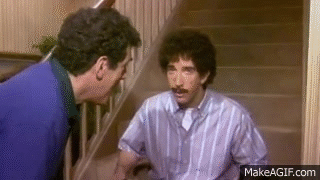 Least Favorite Episode?
The One with The Bullies. So dumb. I will turn it off when I see it's on.
Who Is Your Favorite Friend?
There is no question, Chandler. He's hilarious.  And sweet, flawed and real.
Least Favorite Friend?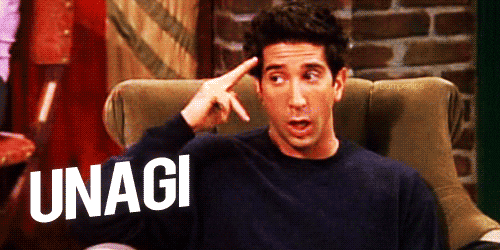 Ross. The writers turned him into such a giant douche.
Which Friend Best Represents Yourself?
Monica. I'm sort of OCD and notice when things are different. I'm rigid too.
Favorite Romantic Pairing?
Monica and Chandler were so great together. They really complimented each other perfectly.
Your Favorite Quote?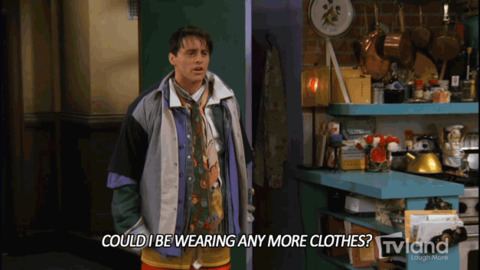 "Could I be wearing any more clothes?" I say it quite often.
Which of Phoebe's Songs Is Your Favorite?
Smelly Cat.
What Is Your Favorite Season?
Season 3.
Which Is Your Favorite Episode(s) Not Set In New York?
I like London and then Barbados. Monica's hair was hilarious!
Favorite Guest Star?
Brad Pitt was hilarious as the guy that hated Rachel. He was great.
Favorite Secondary Character?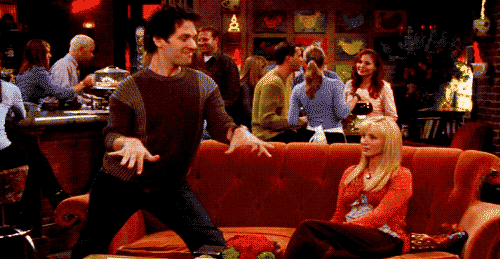 Mike Hannigan, the guy Phoebe ended up marrying.
Least Favorite Secondary Character?
Janice was the worst character ever.
Favorite Wedding?
Chandler & Monica's by far.
Favorite Birth?
Ben, Ross and Carol's son who disappeared after about season 6. Phoebe and Ross getting stuck in the janitor's closet.
Are you a fan of Friends? What's your favorite show to binge-watch? Let me know in the comments below – I'm always looking for something new and epic to watch.
I tag you! I would love to see your thoughts on Friends!
Happy watching.