Top Ten Tuesday is a weekly meme hosted by the Broke and The Bookish blog.  They are currently on a well deserved hiatus until next week.
Since we are halfway through one of Game of Thrones best seasons, I though I would do a TTT about some of my favorite "ships" from the show.  Since GOT is very character driven, I'm focusing on friendships instead of relationships (with one brand new exception).  These are in no particular order.
Brienne and Jaime
Jaime was taken as a POW by the Starks in season 2, and Brienne was charged with his care.  Jaime was an arrogant ass back then, and I think his friendship with Brienne really changed who Jaime is.  They have a deep respect of one another, something I don't think Jaime had much of from his family. He's a much better person now for all he endured during his time with the Starks and Brienne.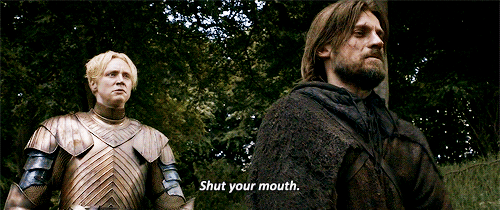 Tyrion and Varys
Tyrion is one of the best characters on the show, and he's great with Varys.  Varys is an odd character, but he gets Tyrion in a way few others do.  They have had many funny moments over the past few seasons, and I truly believe that Varys is the only person who has Tyrion's back at all costs.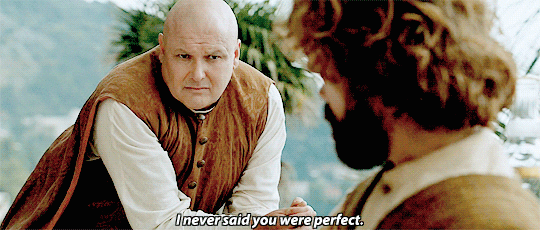 Arya and The Hound
Arya was technically the Hound's prisoner, but their relationship never felt like that was the case.  I think the Hound respected Arya's want to learn and become a fighter, and Arya respected his history and learned a lot from him.  They were a really great team.
Jon and Sam
Jon needed a true friend, and he found that in Sam.  I think Sam always saw Jon's value, even when Jon didn't.  Jon and Sam always have each others back, and I would love to see them reunite before the finale, though it's not likely.
Davos and Shireen
Poor Shireen.  Davos was the father she wanted but didn't get in the ultra arrogant Stannis.  Davos was loving and patient with Shireen, and I truly believe he loved her more than her parents did.  His utter devastation when she died proved that.
Jaime and Bronn
Yes, I chose Jaime and Bronn over Tyrion and Bronn.  These two have such an unspoken respect for one another, and Bronn is not afraid to give Jaime shit over his good looks and sick pining over his sister.  Together they are quite funny.
Margaery and Loras
My only family members to make the list.  Loras was a homosexual (which is frowned upon), and not only did his sister know, she supported him.  She lied to cover it up, and it ended up costing them both their lives.  They had a lovely relationship until Loras was imprisoned and gave up on himself.
Brienne and Pod
In a world where men rule, it must be hard to poor little Podrick Payne to be the squire to the toughest woman in Westeros, but that's exactly what Pod is.  He gives excellent counsel to Brienne when she needs it, but lets her do her thing.  They have a great friendship.
Grey Worm and Missandei
Grey Worm is an Unsullied soldier, and Missandei is a former slave who now serves as the Queen's trusted advisor.  They have formed an unlikely yet beautiful friendship based upon brutal upbringings and mutual respect.  They have now taken things to a new level, and it's even more beautiful. Jon and Tormund
Jon took a bunch of shit over his partnership with the Wildlings, but in the end, it was the right decision, despite costing Jon his life (temporarily). Tormund is the leader of the Wildlings, and is a hilarious hell raiser to Jon's Captain Serious.  They offset each other nicely, and have formed a fun friendship.
Have I missed anyone?
Happy watching.