This is my 43rd installment in my Man Crush Monday meme.  Since I read mostly romance, I thought I'd share some of my "book crushes" with you, and possibly introduce you to some new reading material.
My Man Crush Monday for this week is

Nico Manganiello

from 

Friends Without Benefits

by Penny Reid.

There are three things you need to know about Elizabeth Finney: 1) She suffers from severe sarcastic syndrome, especially when she's unnerved, 2) No one unnerves her like Nico Manganiello, and 3) She knows how to knit.
Elizabeth Finney is almost always right about everything: the musical merits of boy bands are undervalued by society, "benefits" with human Ken dolls are better without friendship, and the sun has set on her once-in-a-lifetime chance for true love. But when Elizabeth's plans for benefits without friendship are disarmed by the irritatingly charismatic and chauvinistic Nico Manganiello- her former nemesis- she finds herself struggling to maintain the electric fence around her heart while avoiding electrocution or, worse, falling in love.
Ok, first of all, I'm breaking my own rules (not official, just my own) and I'm using the guy from the book I'm currently reading (though I'm at 85% – so almost done).  I don't generally do that, but I'm just so enamored with Nico that I had to use him this week.
Oh Nico.  You are awesome.  Nico Manganiello is the star of a comedy show on Comedy Central and a celebrity.  Elizabeth Finney is an MD who is helping treat his niece.  Nico was the boy who tormented Elizabeth while they were growing up.  Started the nickname Skinny Finney.  Thing is, he was in love with her then, and is in love with her now.  Elizabeth is kind of a bitch (my full review will come later) but man, Nico is one patient dude.  And sweet.  And funny.  And Italian.  I pictured Joe Manganiello (below) the whole time.  Yummy.  Seriously not sure why I waited 3 years to pick up book 2 in this series.  Book three is already on hold.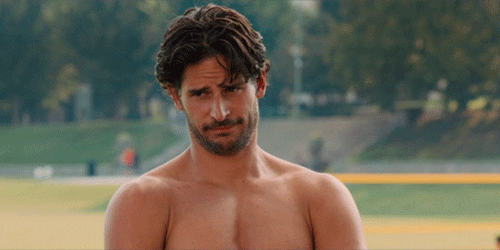 Do you have a "Man Crush"?  Share below in the comments.  I'd love to hear from you!
Happy reading.