Disclaimer – If you are reading this, I'm going to assume that you WATCH New Girl.  If you don't watch, you many not want to read on, as there will be spoilers.
---
When I started watching New Girl a few years ago, I will admit I wasn't the biggest fan of Schmidt.  He was kind of douche, and the roommates even had a douche jar that he had to put money in constantly.
Schmidt is a "former fat guy" and was Nick's college roommate.  They became best friends and now live together in LA.  When Jess moved in, Schmidt immediately fell in lust with Jess's best friend, CeCe.   He was really douchy with her in the beginning, and quite inappropriate.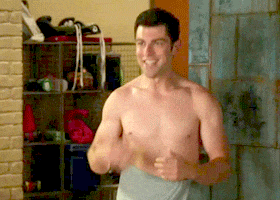 At the end of season 2, Schmidt had been seeing Cece and his college girlfriend Elizabeth at the same time.  It came to blows and he lost both women.  This is when Schmidt started to change.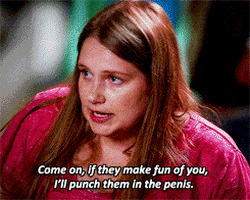 Season 3 of New Girl really sucked – it was the "Nick and Jess" year.  It was really unfunny and Nick and Jess just weren't good together.  It was awkward during Season 3 for Schmidt and CeCe during Season 3.  CeCe didn't trust Schmidt due to his cheating with Elizabeth.
This gif is from Season 2, but it's when Schmidt was "Magic Mike's" Dallas.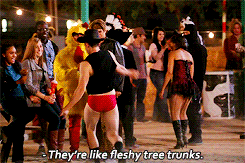 During Season 4, Schmidt started dating an awful character named Fawn, who was a local politician.  She was constantly putting Schmidt down, which pissed CeCe off and eventually brought her and Schmidt back to a friendship.  By the end of Season 4, CeCe realized that she was in love with Schmidt.  Schmidt finally broke up with Fawn and proposed to CeCe.
Season 5 was really Schmidt's finest season.  He and CeCe were planning their wedding.  At the end of the season, CeCe's mom told her that she wasn't going to come to her wedding, and Schmidt literally got on an airplane to go get her mom for her.  This solidified my love of Schmidt for me.  His love of CeCe and the lengths he would go to for her – swoonworthy.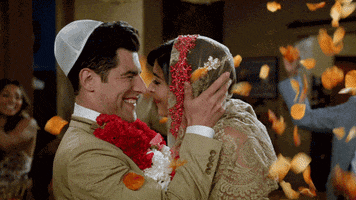 Nick has become a buffoon and Winston is now in a relationship, but Schmidt is the man.  Do you love Schmidt as much as I do?
Happy watching.